PIZZA MAKING IN SORRENTO
Cook-Wine Tour > Cooking Lessons
Lessons in Pizza Making At Villa Caprile Farm House


Always wanted to know how pizza ismade THE REAL WAY remember
Pizza was invented in Naples
where better to learn how to make pizza than in this area Villa Caprile offer you
this opportunity. Stay with us and you will learn to make the pizza the Napolitano way

Pizza Chef will be waiting for you around 09,00am where you will be immediately
placed into starters position he will show you how to makethe dough for the pizza
The technique of making the dough rise once you have made the base,you will
leave the base to rise for approx t hr 30 at room temperature. While the Dough
is rising you will have a guided tour of the grounds Returning back to the Kitchen
the Dough is ready to be moulded into shape you will be guided through this
procedure with you Pizza chef.
Pizza selection for toppings at your pleasure there will be a variety of all products you
will also cook the pizza yourself in the OLD STYLE 0PEN FIRE OVEN WOOD HEATED

Then eat what you have made with a great bottle of local Wine (who has made
the best pizza or concluded a pizza in the appropriate way will be given a

certificate of Pizza Making day course. (maybe he might open up a Pizza House back Home)


The price is for Min 6 people Group
Prices include transfer to and from Hotel
Cooking School Day and meal
Times 09,00 return approx 16,00
Total Prices for all the 6 people Euros 770,00
_____________________________________________________________

_________________________________________________________________________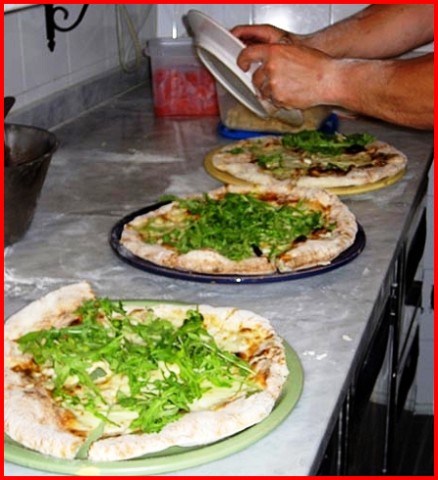 Villa Caprile Farm House Cooking lesson

Enjoy Italy and its people from the real countryside farm house the old fashioned way
We offers you this very special day in the Heart of the sorrentine valley
A full day cooking school, where you will spend a day at a local Farm house Villa Caprille
This Farm House offer all that one could wish for away from the City fresh air all local
Vegetation and products A full emersion into the rural life style of the locals.

You will be able to sample and experience the ancient way of Wine making and Oil making and all Primary Products where you will be guided around the farmhouse.

0n arrival you will be greeted by the staffand shown around the grounds to get an outlook of the area , then you will encounter your Cooking teacher that will show your group a variety of menus Where you decide which you wish to cook. 0nce cooked of course one will eat the master dishes made with an excellent bottle of local Wine and to top of the meal with a small glass of Limoncello

During the day all the local products will be explained what is grown in certain seasons the making of products such as limoncello and 0live oil the procedures from the primar product to the final Product ready for consumption. Then during the end of the day a Guided tour of the Wine cellar and explanations of the wines and conservations of wine, and how the product is maintained at a certain temperature. All local products from the Farm can also be bought on the day.


The day tour is for a group of min. 6 people
Prices include transfer to and from Hotel
Plus Cooking School Day and lunch
Times 09,00a.m. return approx 16,00
TOTAL PRICE FOR ALL THE 6 PEOPLE Euros 800,00
_____________________________________________________________

___________________________________________________________________